Village Board unveils new Welcome to Airmont installation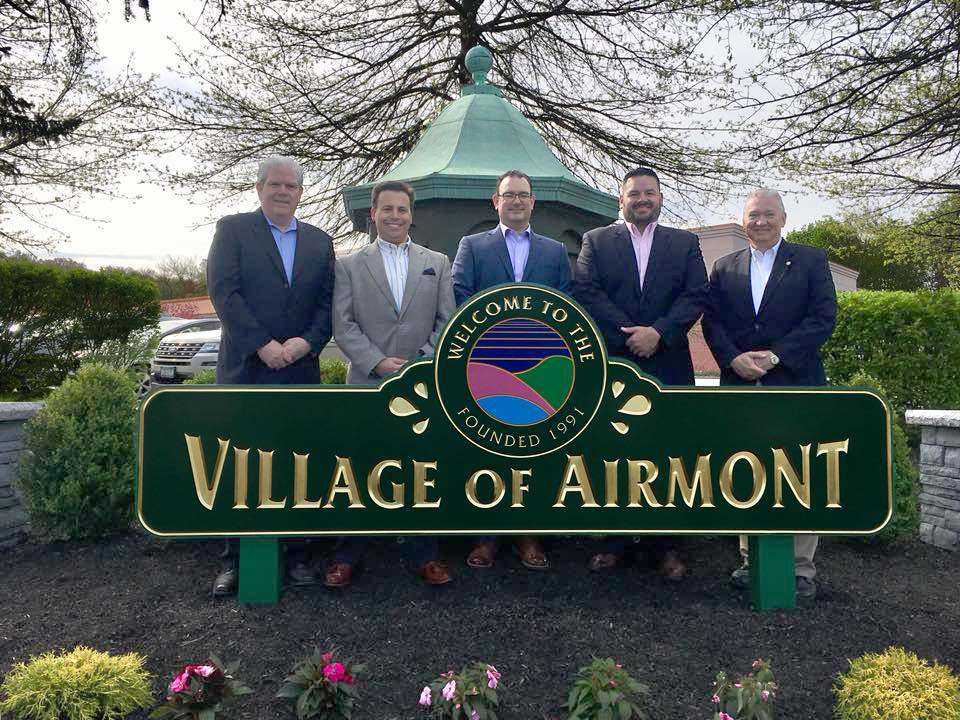 Today's ribbon-cutting ceremony for the new "Welcome to Airmont" sign, located at the corner of South Airmont Road and Route 59, was a celebration of the present combined with an appreciation for the past. The centerpiece of the installation, which is adjacent to what is now a Walgreens store, features the antique cupola from the building that used to stand on that very spot: Airmont Elementary School. Built in 1910, the aging brick structure was torn down in the late 1980s to make way for newer construction in the sought-after Airmont business district.
Thanks to the foresight of Village Historian Bob Goetschius, Airmont was permitted to save the cupola, preserving it for future use by the Village. For several years, it was safely stored and cared for by Mr. Goetschius, awaiting a permanent place to call home. "We're so fortunate to have this wonderful piece of Airmont history," said Goetschius. "Many other people wanted to get the cupola, but I quickly put in a request on behalf of the Village, and we were able to secure it for our residents at no charge. Now, everyone who passes through Airmont can enjoy its beauty."
Mayor Philip Gigante, Deputy Mayor Paul Marchesani, and Trustees Anthony Valvo, Kevin Warbrick, and Peter Blunnie recognized both the historic significance and sentimental value of the cupola, and decided to take action. Last year, they successfully negotiated with the owner of Walgreens to make the corner plot available for an eye-catching Welcome to Airmont installation, similar to one located in nearby Suffern. After putting out a call to local landscaping companies for a design that would properly showcase the cupola, Belleville Landscaping was chosen to complete the project. Belleville generously donated their time and labor on the project, along with all of the plantings and the stone retaining wall.
"The Board of Trustees and I were blown away by the overwhelming outpouring of support we received for this project," said Mayor Gigante. "We've gotten a number of messages from former students of Airmont Elementary School, expressing their gratitude for salvaging the cupola, and giving it a place of honor in its former location."
Mayor Gigante also praised Goetschius for the key role the Village Historian played in preserving this nostalgic memento of Airmont's past. "Fortunately for us," said Gigante, "Bob had the foresight to save the cupola, so that it can be enjoyed and admired by everyone for years to come."